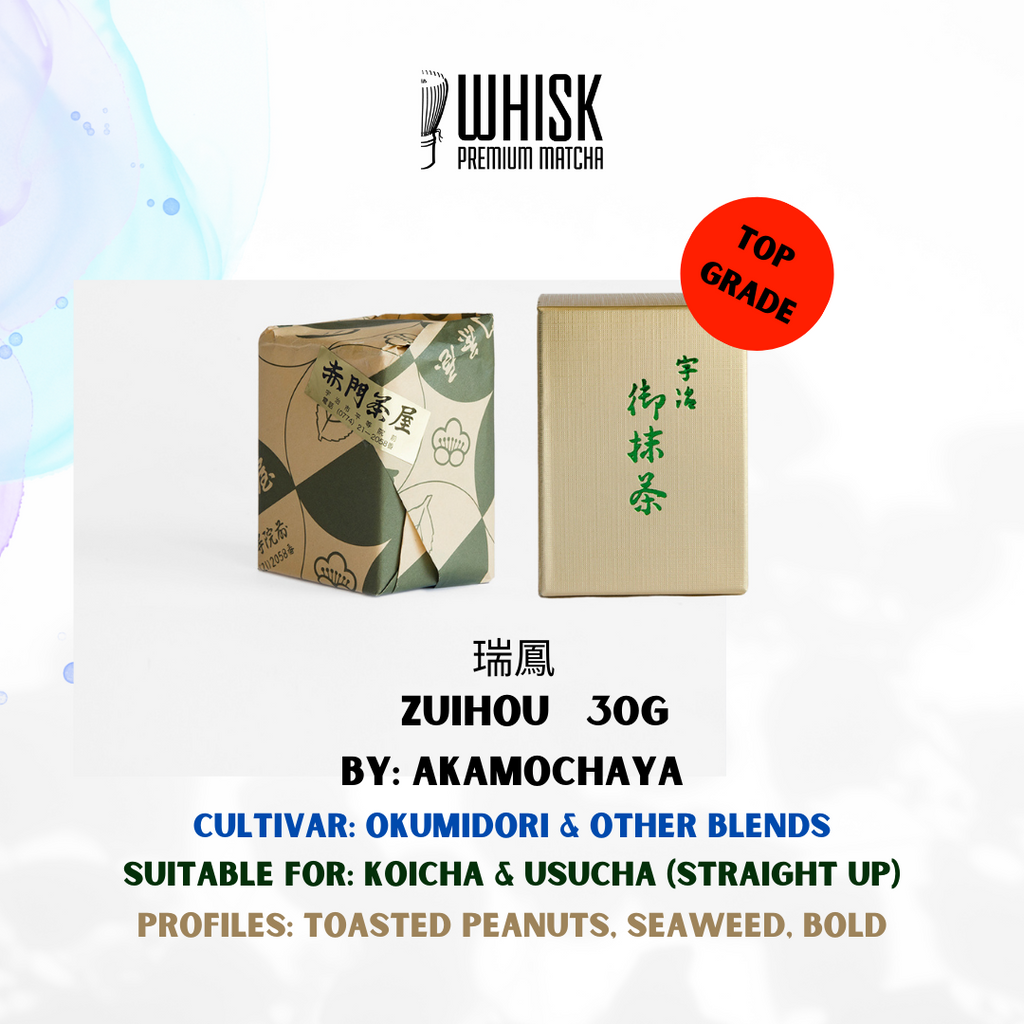 $25.00
NEW! UJI specialty matcha collection
Uji has a special place in my heart. When I first started WHISK back in 2016, I sourced matcha exclusively from Uji, Kyoto, Japan.
Why Uji?
Well, I went to Kyoto when I was 9. I fell in love with all the matcha sweets available at those dessert shops. We went to Arashiyama bamboo forest because I was actually named after Arashiyama 嵐山; my legal name has 嵐 (arashi) in it because the day my dad went to Arashiyama, my mom found out that she's pregnant with me! All matcha sweets we had in Kyoto had "UJICHA" marked on the package. That's my very first impression of Ujicha, so fast forward 20 some years later, I imported matcha from Uji region.
The first time I went to Uji was in 2017. It was mind-blowing. We were lucky because all the shops we went to in 2017 were quite hidden gems. We went to Jinjiro san's tea shop who happened to be one of the very few tea producers left in Japan using traditional Honzu shading method; we went to Fukujuen and bought specialty matcha with gold foil. We attended a few Chado and learnt basic Japanese tea ceremony. We took a few classes of Wagashi making. We went on a few tea plantation tours and factory tours, and learnt a ton. We went back to Uji in 2018 again but mostly picking up matcha from Nakanishi san.
After a 3-year pandemic hiatus, here we came again. We wanted to explore the tea producers that we haven't tried before; I had about 8 tea producers on the list and visited most of them. However, I'm not sure if it's me in this matcha business for a while, or it's because of the pandemic that local businesses are struggling to survive, the vibe of most tea shops were touristy and a little pushy. We were often pressured to make purchases though the store clerks couldn't even answer most of my questions, nor have showed any interests in finding it out for me. I mean scenarios could be a little different if I have pre-arranged a business meeting or something, but I'd rather to have a more authentic experiences (and showing up as a tourist/customer at tea shops in Nishio was just fine).

Regardlessly, I still enjoyed lots of matcha (mostly in Usucha form) and brought back a few top grades from selected brands. Most of them are quite different from each other. I learnt that it's the unique cultivar blends that tea masters from each brand create set the flavor profiles apart from each other, though they're all 100% first harvest, handpicked Ujicha without any blend-ins from other regions.
If you see the word MUKASHI 昔, it means that it's top quality matcha using hand-picked, first picked raw tea materials; MUKASHI means older times in Japanese, so it also means that they're using the traditional processing method to produce this type of delicate teas. The final products often have very minimal bitterness and can be prepared as KOICHA (thick tea). I've tried all the MUKASHI matcha in KOICHA, and my fav is Hatsu Mukashi from Kanbayashi Shunsho, quite equally Zuihou from Akamon Chaya, however my partner enjoyed Kenjyo Hatsu Mukashi from Mitsubashi-en. Once it gets to KOICHA level of concentration, it gets very easy to pick a fav (or at least, the least fav) because the flavor is so intense!
Here's a list of producers & grades. A brief intro on each tea producer will unfold over time on our Instagram account
VENDOR
GRADES
AVAILABLE ONLINE 

AVAILABLE 

IN-STORE

 

森半 

Morihan
和敬
Keiwa
30g tin $38

X
SOLD OUT

巨椋の昔
Ogura no Mukashi
30g tin $58
X
SOLD OUT

通園  Tsuen

太閤さん
Taiko san
30g tin $89

X
1 left

上林春松 
Kanbayashi shunsho
初昔
Hatsu Mukashi
20g tin $68
X
龍の影
Ryou no Kage
40g pouch $38
X
綾の森
Aya no Mori
40g pouch $28
X
伊藤久右衛門 
Itokyuemon
あじろ木
Ajiro Ki
30g $58
X
SOLD OUT
宇治みどり
Uji Midori
30g $32
X
1 left

松阪翠松堂
matsusaka suisyoudou


萬葉の昔 
Manyo no Mukashi
40g $98


X

千寿の昔 
Senjyu
40g $68

X
琵琶の昔
Biwa no Mukashi
40g $58

X


赤門茶屋
Akamon Chaya

瑞鳳 
Zuihou 
30g $95
X
2 left


上林三星園
Mitsubashi-en

献上初昔
Kenjyo Hatsu Mukashi
30g  $95

X
1 left



初むかし
Hatsu Mukashi
30g $85

X
1 left